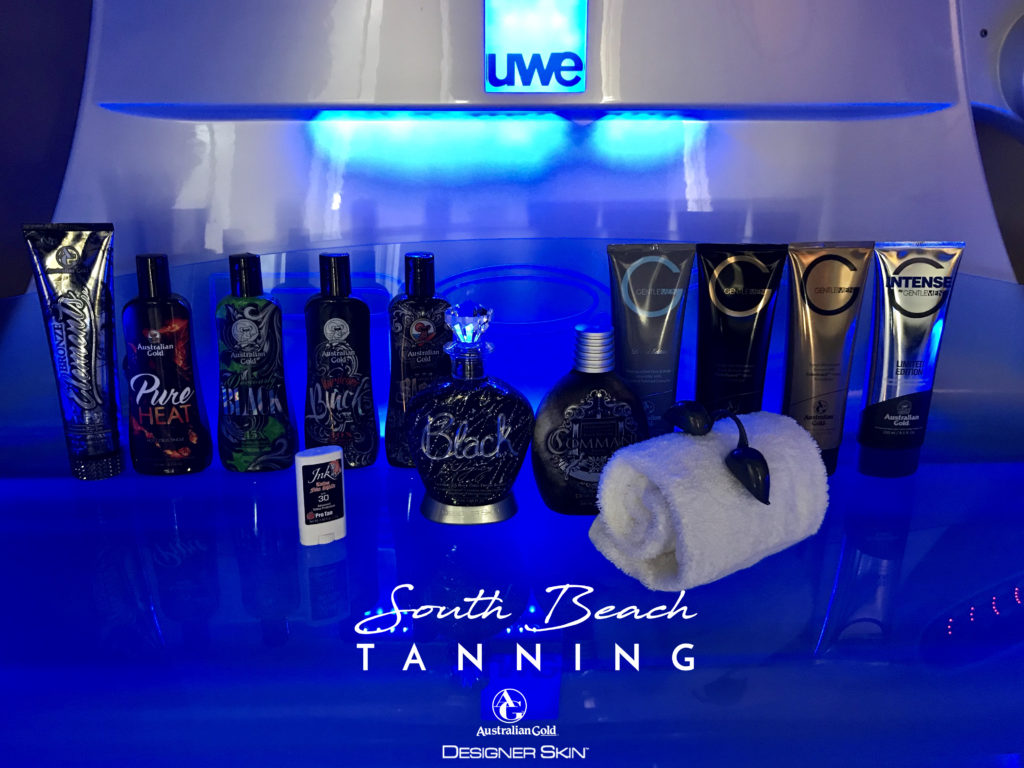 As South Beach Tanning, we cater to Men that love to keep a great tan also!  We offer lotions that were designed specifically for Men from Australian Gold, Designer Skin and more!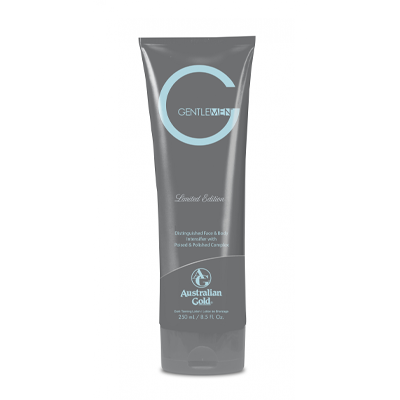 G GENTLEMEN® DARK INTENSIFIER
G GENTLEMEN® LIMITED EDITION DARK INTENSIFIER
Channel your inner dapper with this Distinguished Face & Body Intensifier. An exceptional blend of darkening ingredients flawlessly moisturize and promote a dark, gorgeous glow for use from head-to-toe. Specially formulated Poised & Polished Complex helps strengthen, soften and smooth rough make skin for a refined and radiant complexion. Luxurious ColorGuard™ Tattoo Technology hydrates deeply giving tattoos vibrancy and helps to prevent those works of art from fading. You will always be dressed for success with a G style that all will adore!
Hydrating Coconut Water: Concentrated amount of Coconut Fruit Juice revitalizes and softens for resilient, dark color
Distinguished Face & Body Intensifier: Blend of gentle ingredients help moisturize and promote a head-to-toe natural dark hue; specially formulated for use on face and body
Poised & Polished Complex: Refined collection of skincare ingredients that help moisturize, soften and smooth for a radiant, confident glow
ColorGuard™ Tattoo Technology: Tiger Grass creates a moisture-seal blend that helps prevent tattoos from fading
Drive the ladies crazy with this Rugged fragrance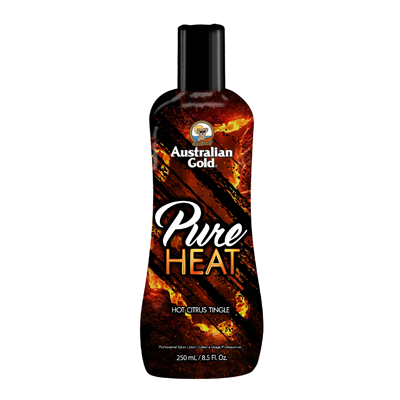 PURE HEAT™
It's time to turn the heat up for intense hot color! Invigorate your tan with this Hot Citrus Tingle that will leave you breathless, while Tyrosine provides a beautiful, golden glow. A lavish Conditioning Complex soothes the tingling sensation to leave a flawless, flushed bronze hue, while Hemp Seed Oil moisturizes for a tantalizing glow. Pure Heat™ will get you intoxicatingly hot, flawless color!
Hot Citrus Tingle: High level of tingle blended flawlessly with Citrus for a sizzling flushed glow
Golden Glow: Powerful Tyrosine helps give a natural bronze hue
Conditioning Complex: Aloe Vera, Oils and Vitamins help soothe and moisturize for longer lasting dark color
Enticing Hemp Seed Oil: Conditions and moisturizes for a radiant, youthful glow
Classic CocoaDreams fragrance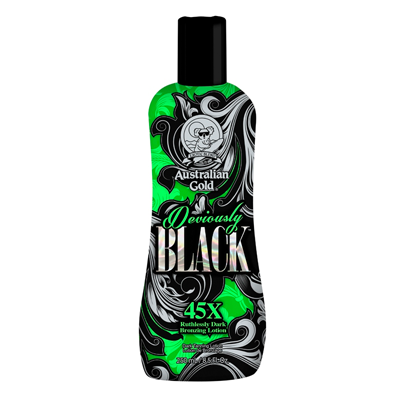 DEVIOUSLY BLACK®
Sometimes being devious isn't a bad thing? Dominant instant bronzers deliver natural dark color while working with DHA for a longer, delayed golden hue. Quench skin's thirst with Twisted Skincare Cocktail, infused with Absinthe Extract, which nourishes deeply for alluring, sinfully soft skin. Enticing Hemp Seed Oil firms and hydrates for a radiant, tantalizing glow. Others will need to proceed with caution, as your Deviously Black® color will be hard to ignore!
45X Ruthlessly Dark Bronzers: Ultimate blend of natural bronzers and DHA provide desirable, intense color
Twisted Skincare Cocktail: Greedy concoction of Vitamins, Oils and Absinthe Extract purifies, helps heal and nourishes for devilishly smooth skin
Enticing Hemp Seed Oil: Conditions and moisturizes for a radiant, hydrated bronze glow
Skin Softeners: Concentrated amount of complete skincare that reveals sensually, soft skin
Be captivated by this Mesmerizing Oasis fragrance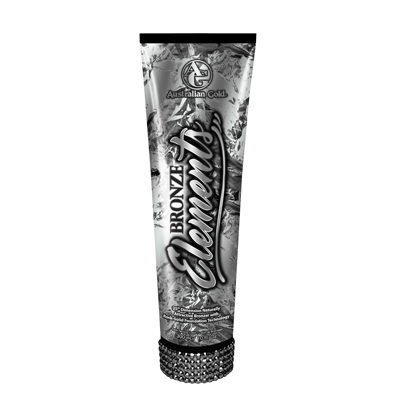 BRONZE ELEMENTS™
Get unbelievably dark color served on a silver platter with this 25th Dimension Naturally Attractive Bronzer that will foil any plans of being pale! Natural Bronzers, Mahakanni, Copper and Zinc provide instant color gratification and delayed, developed color. Let your skin reflect its new inner strength as Rock-Solid Foundation Technology deeply nourishes for smooth, gorgeous perfection. Deluxe Bio-Active Bronzing Minerals strengthen and soften for touchable, sleek skin while Flawless Finish leaves skin without shine. The building blocks for gorgeous color every tanning session is Bronze Elements™!
25th Dimension Naturally Attractive Bronzer: A powerful blend of Natural Bronzers, Mahakanni and key darkening elements resulting in flawless bronze perfection
Rock-Solid Foundation Technology: Unique skincare that helps strengthen and smooth for a strong tanning canvas
Bio-Active Bronzing Minerals: Naturally obtained 92 essential minerals, including Silver, rejuvenate and soothe for visibly smoother skin
Flawless Finish: Leaves skin with a touchable, powder-like feel
Paraben Free
Find your escape with this Caribbean Sunset fragrance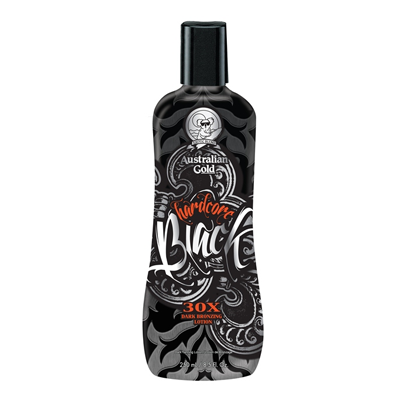 HARDCORE BLACK®
The dark side is calling with this ruthlessly dark bronzing lotion that will make others envious of your Hardcore Black® color.  You'll certainly be lusted over with this 30X dark bronzing brew of natural bronzers, skin nourishing vitamins and essential oils for deep, lasting color.  Your devotion to sexy skin and bronze color will never be questioned!
30X Dark Bronzers: Combination of instant and delayed bronzers for longer-lasting natural color
Enticing Hemp Seed Oil: Conditions and moisturizes for radiant,  hydrated skin
Wicked Skin Softeners: Concentrated amount of complete skincare that penetrates deep to reveal sensually smooth, skin
Get others jealous with this Dark Envy fragrance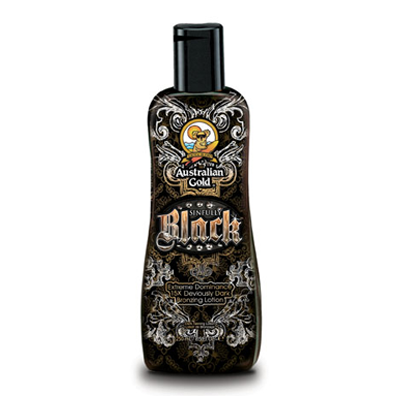 SINFULLY BLACK®
Indulge your guilty pleasures with the deviously dark bronzing formula that will instantly make others envious of your Sinfully Black® color. No need to repent! Be proud of your dark, rich color! Get greedy with this 15X brew of Hemp Seed Oil, Black Currant Oil, KuKui Nut Oil and other skin nourishing Vitamins for skin so soft and gorgeous it will be lusted over! Being this dark is sinful.
15X Deviously Dark Bronzers: Combination of natural bronzers provide immediate dark bronzing results
Sinful Skin Softeners: High levels of Vitamins and Native Oils combine for soft, smooth, touchable skin
Moisturizers: Advanced conditioning ingredients, including Aloe Vera, provide intense moisture to the skin for the longest-lasting dark color
Feed your need for more with this decadent Temptuous Berry fragrance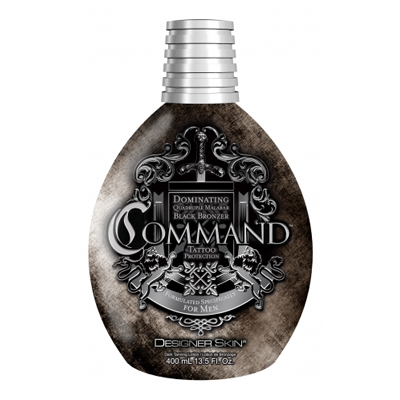 COMMAND®
Are you a man who knows what he wants?  Demand greatness and you shall receive!  Empower your tan with this Dominating Quadruple Bronzer that delivers superior dark color that cannot be contended.  Want to protect your ink?  Rest easy as your tattoos are shielded and protected to keep your colors strong.  Stop battling to get what you want, and start receiving results better than the rest.  Take Command and prepare to be the knight in shining armor of someone's fantasy…
Powerful Quadruple Bronzing Blend combines DHA with Malabar Black Natural Bronzers to help deliver an immediate bronzing impact and maximum results
Anti-Fade Tattoo Protection works to protect black and colored tattoo inks with the botanical extracts of Licorice and Green Tea
Hydrating Silicone helps to moisturize skin, leaving behind a non-greasy after feel
ATO Defense combines with the minimalist scent of Cynical to keep after tan odors at bay and skin smelling fresh
Fragrance:  Cynical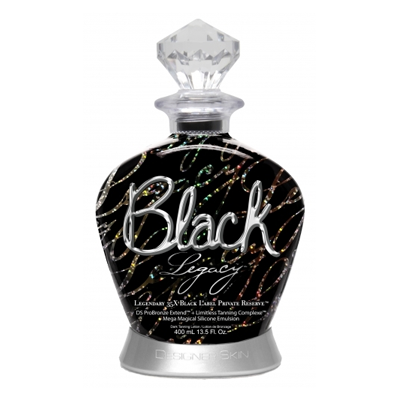 BLACK LEGACY®
From the makers of Designer Skin Black® and Black Noir™…the legacy continues! Like generations before, Black Legacy™ contains the most sophisticated bronzing technology from our exclusive Black Label Private Reserve™. But every new generation has to test the limits and this 35X bronzer will take you to new bronzing extremes! The groundbreaking natural bronzing power of the Limitless Tanning Complexe™ has been amplified with an infusion of DS ProBronze Extend™ for color that won't be long forgotten. This is your time. What will your legacy be?
A potent pairing of Limitless Tanning Complexe™ and DS ProBronze Extend™ help activate the tanning process and eliminate restrictions on dark color potential for astonishingly dark color
MelanINK™ Bronzing Technology combines with Pure Solar Peptides™ for optimal results after just one session, while providing superior anti-aging benefits
Skin Activated Moisture™ Technology features a unique conditioning system that melts at skin temperature for optimal absorption to provide a moisturized, luxurious feel
Mega Magical Silicone Emulsion provides maximum hydration, while imparting skin with a velvety soft finish to leave skin looking as good as it feels
Fragrance: Exotic Tropical Citrus