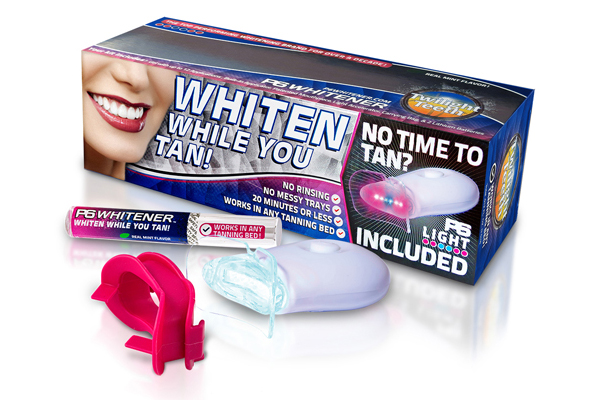 Whiten your smile while you tan! That's right, this is the only system that's patented to whiten your teeth during the tanning session!  The Twilight Teeth System is the easiest and most effective system on the market.
Watch Crystal From South Beach Tanning Talk About Twilight Teeth Whitening!
How to Use Twilight Teeth
You will notice results after your first tanning session with Twilight Teeth! Yes, whitening your teeth is now one of the easiest and most cost effective procedures you can do to improve your appearance. Now you can obtain whitening results that only Dentists could achieve, as well as save time and money. Use Twilight Teeth during your tanning session or on the go with our convenient P6 Whitening Light. Twilight Teeth brings you the same whitening process used in dental offices, but in a special kit, complete with a small, comfortable mouthpiece, and a simple application process with an enjoyable mint flavor. This convenient, no-rinse process allows you to go about your day the moment you remove the mouthpiece. Twilight Teeth is quickly absorbed during your tanning session and whitens effortlessly while you tan. For best results teeth should be clean before treatment and do not eat or drink for 15 minutes after tanning session. Twilight Teeth starts working in as little as six minutes and video end screen.
How to use Twilight Teeth IN THE TANNING BED!
Just prior to tanning, place the mouthpiece in first (do not use P6 light unit). Make sure your smile is exposed and visible through the front of the mouthpiece. You're now ready to use the mirror on the side of the box to apply P6 Whitening gel. With mouthpiece in place apply whitening gel to natural teeth only. Twilight Teeth will only whiten natural teeth. Twilight Teeth will not harm crowns, caps, and other types of dental work; during application make sure not to get gel on soft tissue gums and lips. With mouthpiece in place and gel applied you are ready to tan as you normally would. Any UV bed will produce positive results. For best results use in a premium tanning bed with facial tanners for at least 8 to 20 minutes. Swallow normally during treatment and no-rinsing is required. Twilight Teeth will leave a thin minty film on your smile and dissipates a few minutes after your tanning session. Simply take the mouthpiece out and go about your day, you're done!
How to use Twilight Teeth ON THE GO!
Remove battery protector and replace batteries. Place the mouthpiece in first. Make sure your smile is visible through the front of the mouthpiece. You're now ready to use the mirror on the side of the box to apply P6 whitening gel. With mouthpiece in place, apply whitening gel to your smiling teeth evenly with care not to get on soft tissue gums and lips. Using the mirror on the side of the box, clip the P6 light on the front of the mouthpiece. Whiten for up to 20 minutes. When applied correctly you may swallow as usual. When your session is complete, remove and turn off light, take mouthpiece out, the minty film will dissipate in a few minutes and you can go about your day. Remember the P6 Light is not for use in tanning beds! https://www.feel-good.no/